LEARN FINGERSTYLE

access all courses and interactive TABs


Have everything you need to start playing fingerstyle guitar - access to (1) all courses, (2) interactive TAB libraries, and (3) coaching. It's a complete and organized resource designed to make learning fingerstyle fun and as easy as possible.


The COURSES focus on 3 areas of music that you need to work on in order to play fingerstyle - technique, time, and theory. It starts with the basics and builds up to more advanced lessons. This takes out most of the guesswork because you know exactly what to work on.

Then check out the other available courses. As a subscriber, you get access to any new course and interactive TAB added later.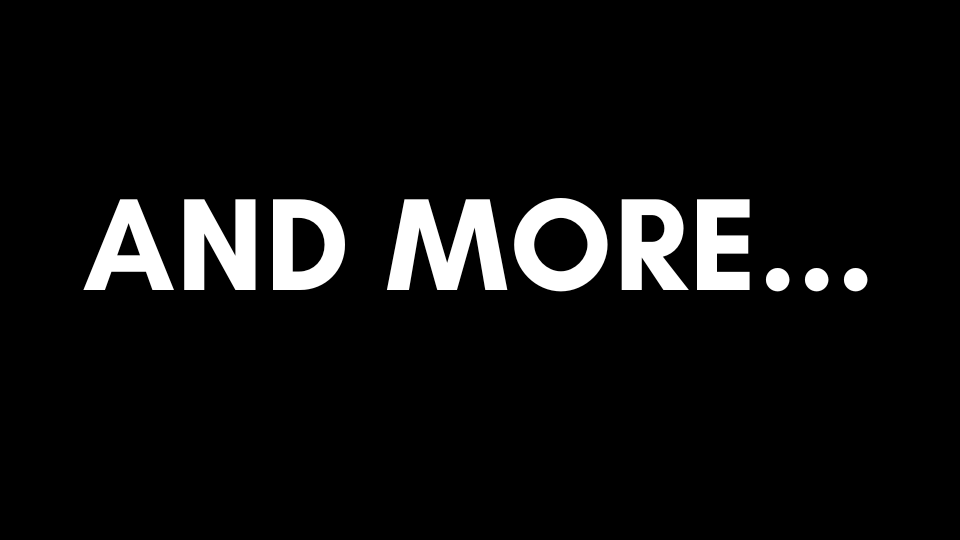 The INTERACTIVE TAB LIBRARIES contain all the simple and advance hymn arrangements in both PDF and interactive TAB format (the best music learning software online). I made the simple hymns for my students to learn fingerstyle techniques while also learning songs that are useful for church and for personal devotions. With these 2 libraries, you have a lot of songs to choose from with a varying range of difficulty from very easy to hard.

Try the interactive TAB! press play, resize the video, slow it down, go full screen, click every button.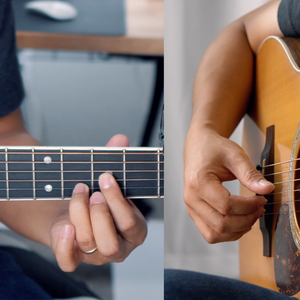 Split-screen video showing both hands for all the songs in the simple hymn library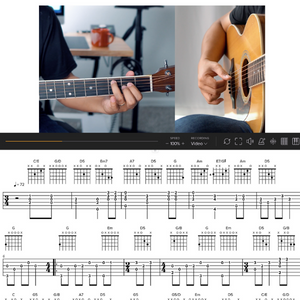 Modify the TAB/Sheet music to your liking and show only what you need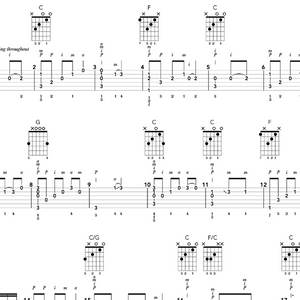 Download the PDF TAB or your own modified TAB for offline learning

Here's a list of what's currently included in the libraries. New songs are added all the time so this is not a complete list.

SIMPLE HYMN LIBRARY
Perfect for beginners to intermediate and for quickly learning songs for special numbers

Volume 1
1 Amazing Grace
2 And Can It Be
3 Be Thou My Vision
4 Come Thou Fount Of Every Blessing
5 Crown Him With Many Crowns
6 Holy Holy Holy
7 How Firm A Foundation
8. Jesus Paid It All
9 Take My Life And Let It Be
10 There Is A Name I Love To Hear
Volume 2
1  Alas And Did My Saviour Bleed
2  Blessed Assurance
3  Fairest Lord Jesus
4  In The Garden
5  Praise To The Lord The Almighty
6  Softly And Tenderly
7  To God Be The Glory
8  Turn Your Eyes Upon Jesus
9  What A Friend We Have In Jesus
10 When I Survey The Wondrous Cross
Volume 3
1  All Hail The Power Of Jesus Name
2  All To Jesus I Surrender
3  Battle Hymn Of The Republic
4  Christ The Lord Is Risen Today
5  Higher Ground
6  I Need Thee Every Hour
7  Near My God To Thee
8  'Tis So Sweet To Trust In Jesus
9  Trust And Obey
10 Were You There
Volume 4
1  A Mighty Fortress Is Our God
2  Be Still My Soul
3  Come Thou Long Expected Jesus
4  I Stand Amazed (My Saviour's Love)
5  Just As I Am
6  My Jesus I Love Thee
7  Praise God From Whom All Blessings Flow
8  Rock Of Ages
9  The Solid Rock
10 There Is A Fountain
Volume 5
1  Angels We Have Heard On High
2  Away In A Manger
3  God Rest Ye Merry Gentlemen
4  Hark The Herald Angels Sing
5  O Come All Ye Faithful
6  O Holy Night
7  O Little Town Of Bethlehem
8  Silent Night
9  The First Noel
10 We Three Kings
Volume 6
1  Are You Washed In The Blood
2  Count Your Blessings
3  Have Thine Own Way
4  I Am Thine O Lord
5  Leaning On The Everlasting Arms
6  Love Lifted Me
7  Nothing But The Blood
8  O Worship The King
9  Standing On The Promises
10 When The Roll Is Called Up Yonder
Volume 7
1  Abide With Me
2  All Creatures Of Our God And King
3  Day By Day
4  Grace Greater Than All Our Sin
5   Great Is Thy Faithfulness
6   It Is Well With My Soul
7  Sing The Wondrous Love Of Jesus
8   Sweet Hour Of Prayer
9   The Old Rugged Cross
10  This Is My Father's World

ADVANCE HYMN LIBRARY
These are more complicated arrangements and require more time to learn

1 Be Thou My Vision
2 Doxology
3 Go Tell It On The Mountain
4 Great Is Thy Faithfulness
5 Holy Holy Holy
6 I Have Decided To Follow Jesus 
7 I Stand Amazed (My Saviour's Love)
8 It Is Well With My Soul
9 Joy To The World
10 O Come All Ye Faithful
11 O Come O Come Emmanuel
12 The Old Rugged Cross
13 Sweet Sweet Spirit
14 Jesus Paid It All
15 His Eye Is On The Sparrow
16 Turn Your Eyes Upon Jesus


Get COACHING through a private Facebook Group. This is only available to members of All Courses Access. Here are just some of the benefits of joining the group: quickly get answers to your questions from me or others in the group, post your practice videos, watch supplemental lessons, learn from others, and have some more accountability.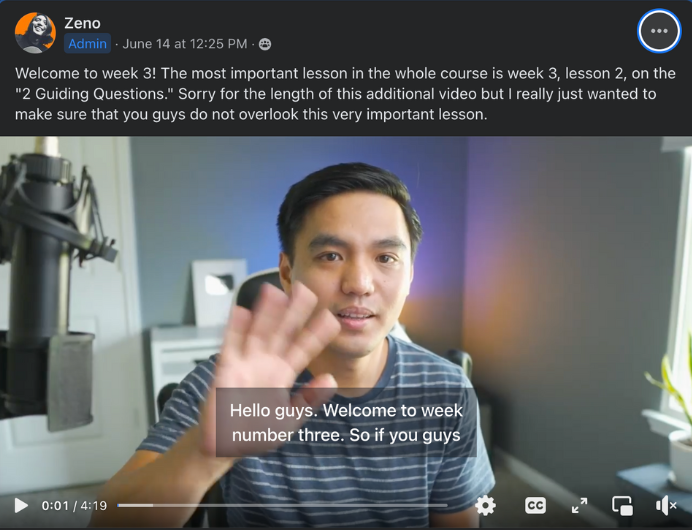 Go through Beginner Fingerstyle with like-minded learners and get direct guidance from me. Learning with a group and having me check up on the group provides a bit of accountability as well.

Have a question? Just ask and get answers fast. I often answer questions with a video as well so that others can learn from it.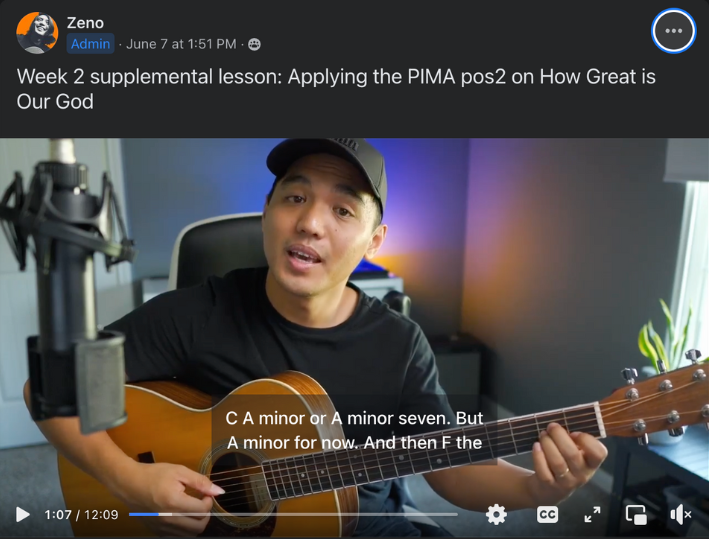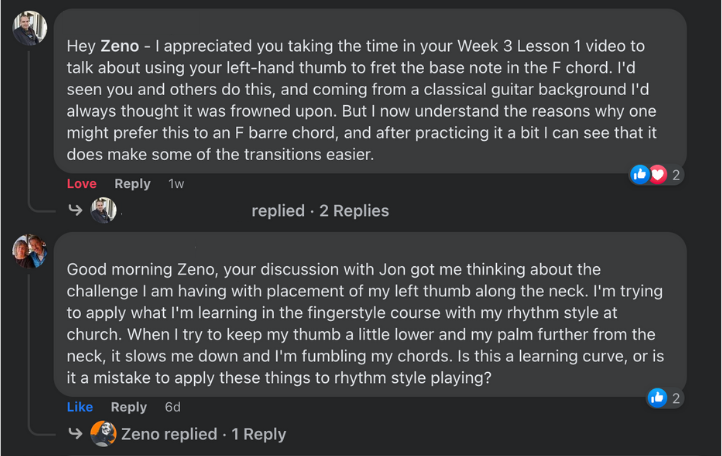 Learn from others. This is our safe space and I try to make the group as engaging as possible so we can all learn from each other.

This collection of courses might be for you if you're looking for a learning platform that is...


Specific
Although much of what you'll learn in this collection can be applicable to other music styles and genres, most of the applications I show you are specific to fingerstyle guitar. So if you primarily want courses that teach guitar with specific application towards fingerstyle, then this is for you. That is not to say though that this will not be useful for other styles. On the contrary, I'm confident that these educational materials will be very useful even in other styles and will improve your overall musicianship.
Comprehensive
This is not a stand-alone course. This is a collection of courses that cover a wide range from technique to rhythm to music theory but focuses on fingerstyle application. This is also a collection of simple and advance interactive hymn arrangements that range from easy to difficult. Many of the lessons also have accompanying PDFs for download. The TABs are also available as PDFs so you can practice offline.
A growing collection
When you subscribe to this collection, you also get access to new additional courses and new interactive TABs added later. Some of the courses and collections in here are available for purchase as stand-alone courses or as recurring subscriptions BUT this is the best deal that gives you access to all of them for a recurring subscription. 
Step-by-step and simple
The courses build on top of each other. I try my best to make the courses simple and digestible. It starts with the massive Fingerstyle 101 course — a 12 week course that builds your basic technique, rhythm, and theory needed to begin and continue playing fingerstyle. Once you finish that course, you can continue learning the other courses or learn from 2 learning libraries, the simple hymn library and the advance hymn library. 
Useful
I first created the simple hymn arrangements for my 1-on-1 students because I wanted them to have learning materials that were simple yet a bit challenging, easy but doesn't sound like children's songs, useful for personal practice but also for church use so that they can encourage others. When subscribe, you'll gain access to the interactive TABs of both the simple hymn collections and advance hymns collections. The advance arrangements are a lot more challenging and require more time to learn. Both libraries are available as 'interactive TAB' so you can see and hear exactly what's happening. The interactive TAB syncs the TAB with the video, allows you to slow it down or speed it up, loop sections, have a fretboard view, and many other useful tools for learning. The simple hymns also have split-screen close-up videos showing you both right and left hand.



These are the courses currently included in this collection


You can click on the individual courses for more specific information but make sure to come back to this page if you want the whole collection.

QUESTIONS YOU MIGHT HAVE ABOUT
'ALL COURSES ACCESS'
Is this course for complete beginners?
Yes. You can start with the beginner courses that cover fingerstyle technique, rhythm, chords, music theory, etc. The courses are step-by-step and easy to understand even for self-learners who have no past music experience or knowledge.
What about intermediate guitarists?
If you're specifically looking to learn about fingerstyle and speed up your learning, then this may be a good fit for you as well. It may cover some knowledge gaps that you have regarding fingerstyle guitar. Since most of the applications are directly related to fingerstyle guitar, you'll be able to connect the dots with some of the guitar knowledge that you already have.
Why don't you include your modern worship song arrangements?
I'd love to include them. The problem I run into is copyright. There's no easy and formal way right now to get all the copyright things in order. It also requires a lot of time to obtain and maintain copyright permission, time that I can use instead to create courses and make arrangements. Older hymns are public domain so there's no copyright issue. 
Why is this subscription only?
The 'All Courses Access' is specifically subscription only. You can get some of the individual courses as a one-time payment if you want. Any course or collection that uses the "interactive TAB" will be subscription-only because it's a service that I pay for per user per month. If you just want to purchase a specific (one-time payment) course with the intent of learning it later down the road then your best option may be to just buy the individual course BUT this collection is the best deal for the price because you get everything for a fraction of the price of all. You're also more likely to not procrastinate learning when you're on a subscription payment.
What if I find that this is not a good fit for me?
No problem. The risk is on me. You have 14 days to let me know that you want to cancel and I will give you a full refund. No questions asked. Just simply email me within 14 days and I will give you a refund.

Hi, I'm Zeno

I started fingerstyle by learning classical guitar at 13 and then finishing up a Jazz Guitar degree in college. During college though, I mainly played rock and shred with my electric guitar.


I was inspired to create acoustic guitar arrangements after watching Tommy Emmanuel live and I then finally switched to acoustic when I got my main acoustic Martin guitar for free. YES you read that right, FREE (long story). I believe it was God's gift to me and a way of nudging me towards arranging acoustic worship songs.

I began to arrange worship songs when I was in seminary. I published my first couple of albums there. It was also in seminary that I realized I had a gift from God, one that I can use for his glory. I can create arrangements that bring peace to listeners and point them to the ultimate Creator. I could also teach others so they can use their God-given gifts to bring glory to God.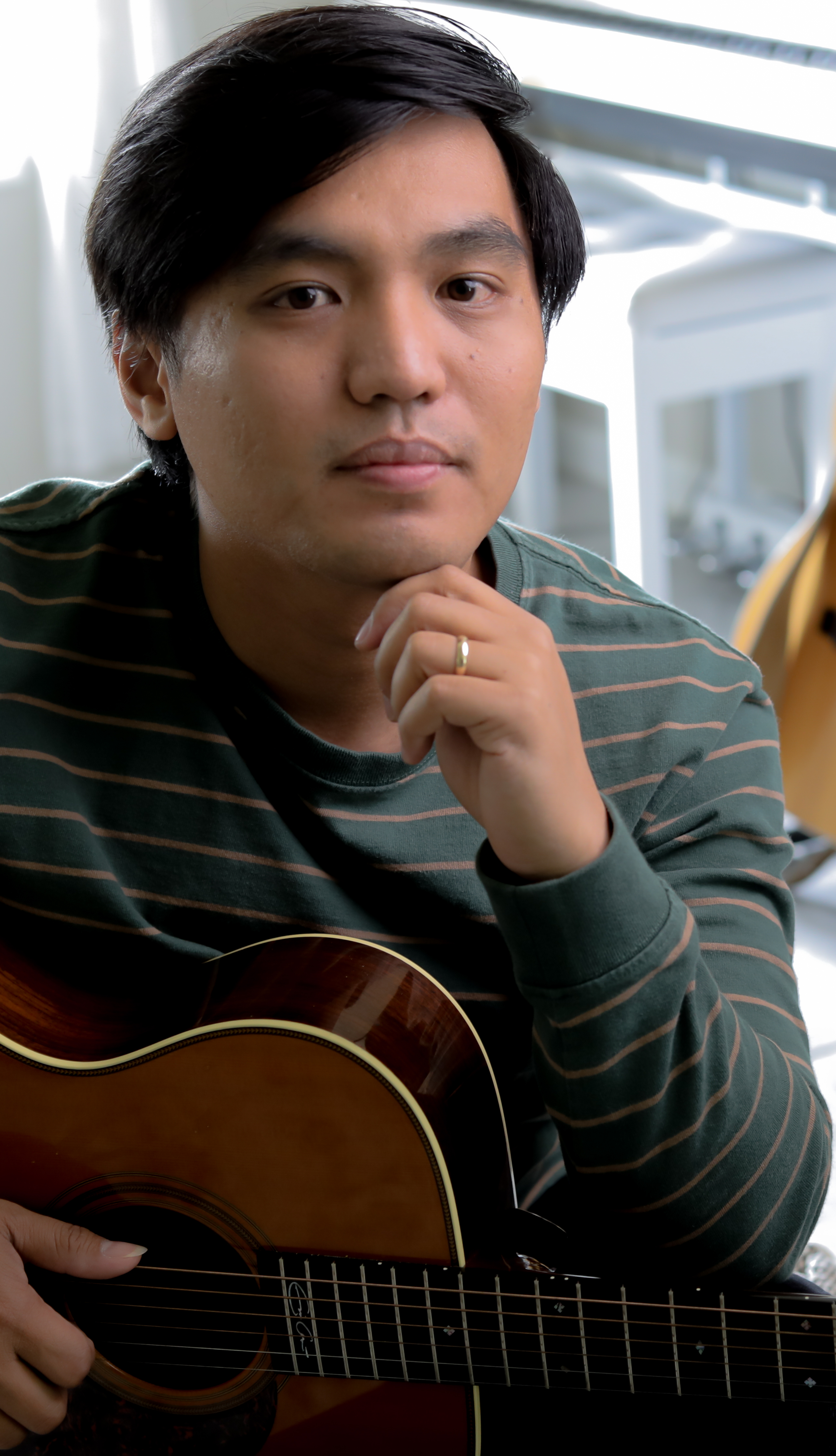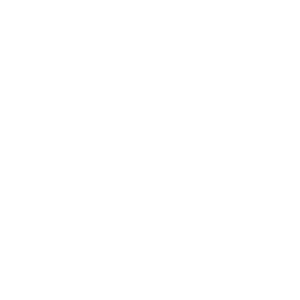 14 Days Money Back Guarantee
I want you to try this risk-free that's why I'm giving you a 2 week guarantee. If for any reason you find that this is not for you, just let me know within 14 days and I'll give you a full refund.